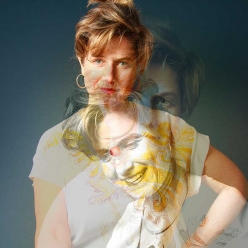 Frédérique Cifuentes
I am an award-winning multimedia producer, curator and educator leader. I am based in London, UK.
I have more than fifteen years of experience in the Arts, Media & Creative Industries in the MENA Region, Sub-Saharan Africa, and Europe with a strong interest in post-conflict recovery, geopolitics, cultural heritage and for countries in crisis and transition.
I have implemented many creative, media and educationalprojects, and produced quality documentary films and multimedia products for major cultural organisations and international institutions, NGOs, festivals, museums, galleries, broadcasters, online platforms and academics.
My work has been broadcasted by BBC Arabic, Al Arabia TV, Universal TV; exhibited and published worldwide by The Independent, Middle East business news, African Arts, Armanco, among others.
My list of clients includes UNESCO, The Royal Norwegian Ministry of Foreign Affairs, The Arab British Center, the British Council, Institut français Londres, Action Contre la Faim, UNHCR, the French Embassy in Khartoum, the Rift Valley Institute.
I hold a master degree in Anthropology from Paris-X Nanterre; a postgraduate degree in Photojournalism from London School of Communications; and a Documentary Filmmaking Certificate, DFG's DOCLAB, UK.
Tel: 0044 77177 55533
E-mail: fred.cifuentes@yahoo.com
Portfolio / PDF file (3Mo)
Frederique Cifuentes Portfolio
Bursaries / Awards / Residencies
2020    Nuits des Idées Institut français du Royaume-Uni
2018     Arts Council England Artists' International Development Fund
2018    British Council Art Connect Us Research Grants: Sub-Saharan Africa
2017-2013       Arab British Centre, UK
2017-2011       AFAC (Arabic Fund For Arts and Culture), Lebanon
2010    Art Grant Scheme, Royal Borough of Kensington and Chelsea, UK
2007    Merit photographer; The Fujifilm Distinctions Awards, UK
2007 – 2006    Artist in Residence, Leighton House Museum, UK
2006    Grants for the Arts, ARTS COUNCIL ENGLAND, UK
2006    Art Grant Scheme, Royal Borough of Kensington and Chelsea, UK
2005    Community Champions, The Scarman Trust, UK
2005    Award winner, Unltd, UK
2005    International Photography Awards, Honorable Mention, USA
2004    Grants for the Arts, ARTS COUNCIL ENGLAND, UK
2004    Prize-winner of the Humanity Photo Award, UNESCO
2003    CEDEJ, Centre Etudes et de Documentation Economiques, Juridiques et Sociales, France, Sudan
1995    Rebuilding Beirut, Land of Exclusion, first prize winner; Jussieu, Paris VII, France
Solo exhibitions
2013    Disappearing Heritage of Sudan 1820 – 1956, Mirghany Cultural Center, Sudan
2012    Disappearing Heritage of Sudan 1820 – 1956, Oriental Museum, UK
2012    Disappearing Heritage of Sudan 1820 – 1956, Brunei Gallery, London, UK
2010    Closer to Home, Leighton House Museum, UK
2007    Tableau Vivant and Evocative Orient, Leighton House Museum, UK
2003    Sufi Festivals in Sudan, Brunei Gallery, London, UK
2003    Sufi Festivals in Sudan, French Cultural Centre, Khartoum, Sudan

Group exhibitions
2018   Sudan South Sudan Literature Week, P21 Gallery, London, UK
2017    Mogadishu 2030, P21 Gallery, London, UK
2017    Sudan: Emergence of Singularities, P21 Gallery, London, UK
2016    World Press Freedom Day, UNESCO, Finland
2009    Cinema in Sudan, Format International Festival, UK
2005    Sufi Groups in Sudan, Khartoum 05, Sudan
2005    Kwoto Dance Company's tour in Sudan, Royal Commonwealth Society, UK
2005    Sudanese Women Creators of Peace, British Museum, UK
2004    Sufi Festivals in Sudan, Assad Library, Syria
2004    Sufi Festivals in Sudan, Africa Days, UNESCO, France
2002    Sufi Festivals in Sudan, International Photographic Gathering of Aleppo, Syria
Publications
2018    Hyperallergic, The Expansive Literary Output of Sudan and South Sudan
2017    The Arab Weekly, Sudanese artists showcased for first time in London
2017    Aramco World, Sudan: Emergence of Singularities
2013    Africa InVisu, "Disparition du patrimoine colonial du Soudan", 1820-1956, France
2012    Mashallah News, "Cinema in Sudan", Lebanon
2008    African Arts Magazine, Summer 2008, vol.41, "Sufi Sheikhs, Sheikhas, and Saints of the Sudan", UCLA, USA
2006    Qantara magazine, Institut du Monde Arabe, "Le Soudan mystique", France
2006    Church Times, "Sudan's man of courage", UK
2005    Artfides, "24 Hours in The Life Of The Catholic Church", Germany, Ethiopia
2005    Africultures, l'Harmattan, "Parfums de femmes / Sudanese Women", France
2005    MEED, Middle East Economical Digest, "Dragon on the Nile / Merowe Dam Sudan", DUBAI
2005    The Independent Magazine, "Islamic World & Sudan", UK
2004    Kegan Paul publisher, Sudan Handbook, UK
2004    Polo Quarterly, "A tradition continues, Polo in Khartoum", UK